Mold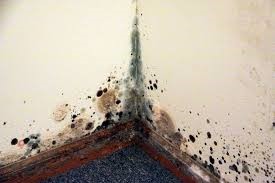 Lorain County Public Health gives guidance on how to clean up mold.
Control moisture and water in your home to keep mold spores from growing. Use a soap-water solution to clean up mold - just add some dish soap to warm water and wipe the mold away. Or, use or a bleach-water solution to remove the mold - add 1 cup or less of bleach to 1 gallon of water. Some commercial products can also remove mold.
Steps to prevent mold growth at home:
Control the humidity level in the home - try to keep a humidity level between 30% - 50%
Make sure air can flow through your home, especially in the kitchen and bathroom
Use an air conditioner or dehumidifier, or open windows to help with air flow
Find and fix water leaks or moisture issues in the home
Dry anything that's wet - carpeting, upholstery, walls, floors, or other water damaged areas - to prevent potential mold growth
Use mold resistant products in the home (like drywall, sheetrock, or mold-inhibiting paint)
If you have any questions about cleaning up mold in your home, call LCPH at 440-322-6367.
Molds are found in almost every environment - indoors and outdoors, year-round. Warm, humid weather helps mold grow. Outdoors, mold likes shady, damp areas or places where leaves or other plants are decomposing. Indoors, mold likes high humidity normally found in basements or showers. Mold growth happens indoors when mold spores land on wet surfaces. No types of mold grow without water or moisture.
Helpful Links: