Lead
Lead is a metal found naturally in the environment, but some older buildings have dangerously high levels of lead inside them. High levels of lead can cause health problems, especially in children. Those problems can include hyperactivity, slowed growth, learning problems, hearing problems, and more.
To help protect you and your loved ones from lead poisoning, Lorain County Public Health offers the following:
Lead screening tests for children 1 to 6 years of age
Case management for children with high lead levels
Lead-based paint assessments of the home
Education for homeowners on lead removal
Click on a lead service for information:
Test child for lead | Test home for lead | HUD Lead abatement program | Drinking water | Children's toys | Resources
Test child for lead
Lorain County Public Health (LCPH) offers lead screening tests to determine if your child has been exposed to lead.
Who: All children 1 to 6 years of age
When + where: Appointments are encouraged; call 440-322-6367. Walk-ins available weekdays from 8:30 a.m. to 4 p.m. at 9880 S. Murray Ridge Rd., Elyria, OH 44035
Cost: Most insurance cover the lab fee. Bring your insurance card.
Details: A lead screening test is done by a finger prick for a drop of blood that is placed on a special paper. LCPH sends the special paper to a lab for lead level results. LCPH will call you once results come in. If your child has high levels of lead, we arrange for a second test to confirm results.
If confirmed that your child does have a high lead level, LCPH will offer you ways to clean up lead in your home and give you information to maintain a healthy home and family.
Should I test my child for lead?
By Ohio law, you must test your child for lead if the child:
Is on Medicaid (age 1-6)
Lives in zip code 44012, 44035, 44044, 44052, 44053, 44055, 44074, 44851, or 44889
Lives in or visits a house built before 1950
Lives in or visits a property built before 1978 that has peeling/chipping paint or a recent/ongoing renovation. This includes childcare centers, preschools, or homes of a babysitter or relative
Has a sibling or playmate who has a high lead level
Comes in contact with an adult who works with lead, such as construction, welding, pottery, painting, and casting ammunition
Also, test your child if the mother:
Had lead exposure during pregnancy.
Came from another country as an immigrant or refugee.
Test home for lead
LCPH offers lead services for the home, including lead-based paint inspections, lead risk assessments, and final clearance examinations of home. These services follow the U.S. Department of Housing and Urban Development (HUD) guidelines. To request these services, click here: Lead-Based Paint Program Services and Fees.
Category A
Description: Lead-based paint inspection & lead risk assessment
Onsite investigation for lead-based paint risks with an inspection of all painted surfaces both inside and outside. Inspection includes a visual assessment, use of a portable X-ray fluorescent (XRF) analyzer, and targeted environmental sampling. You receive a report with the status of the painted surfaces and list of lead hazards.
Cost: $500
Category B
Description: Lead risk assessment
Onsite investigation for lead-based paint risks that includes use of a portable X-ray fluorescent (XRF) analyzer and targeted environmental sampling. You receive a report with the status of the painted surfaces and suggestions for next steps.
Cost: $350
Category C
Description: Final clearance examination
A visual assessment with environmental sampling to make sure no lead-based paint risks are still present after lead cleanup.
Cost: $225
Remove lead hazards from your home
Borrow our HEPA filter vacuum - available at no cost for 1 week
A HEPA vacuum is available for Lorain County residents to help them safely remove lead-based paint chips or lead dust.
HUD lead hazard abatement program


In order to protect children from lead poisoning, the Erie and Lorain County Health Departments, with funding from the U.S. Department of Housing and Urban Development (HUD), are accepting applications for residential lead abatement grants.

Both owner-occupied and rental homes are eligible for funding.

To qualify, the home must be built before 1978 and the combined income of all adult residents must fall below HUD income guidelines listed below.

Homes where children under the age of 6 live or spend a significant amount of time (at least 6 hours per week) are given preference.

2023 HUD Income Guidelines based on household size

| | | | | | | | | |
| --- | --- | --- | --- | --- | --- | --- | --- | --- |
| | 1 person | 2 persons | 3 persons | 4 persons | 5 persons | 6 persons | 7 persons | 8 persons |
| Erie | $43,900 | $50,150 | $56,400 | $62,650 | $67,700 | $72,700 | $77,700 | $82,700 |
| Lorain | $47,850 | $54,650 | $61,500 | $68,300 | $73,800 | $79,250 | $84,700 | $90,200 |

If you think you might qualify, you can apply here!

For more information call our HUD hotline at (419) 626-5623 ext. 5141 or email healthyhomes@echdohio.org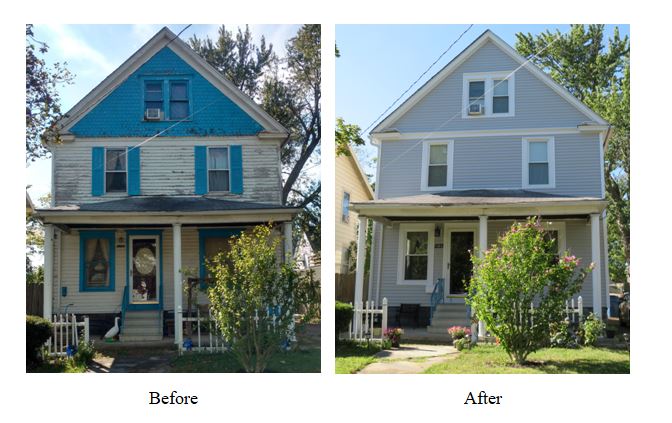 Drinking water
Sources of drinking water in Lorain County do not have high levels of naturally occurring lead. However, lead can get into your water when older plumbing breaks down.
Tips to reduce lead in drinking water:
Run the faucet before drinking. Run the tap until the water runs cold - usually 30 to 60 seconds - before using the water for drinking or cooking. This flushes out water sitting in the plumbing and replaces it with fresh water.
Use COLD water for drinking, eating or cooking. Hot water may contain higher levels of lead. Run cold water until it becomes as cold as possible before using. Do NOT use water from the hot tap to make baby formula.
Do not boil water to remove lead. Boiling water will not reduce lead.
Use water filters or treatment devices. Buy and use a product that is certified to remove lead.
Test your water for lead. Contact your local water provider to see if they test for lead or click here for a list of EPA Certified Laboratories.
Children's toys
Occasionally, lead is found in children's toys. When lead is detected, the toys are recalled. Click below to learn more about lead in children's toys and where to find recalls related to lead and other hazards.
More resources about lead and healthy homes